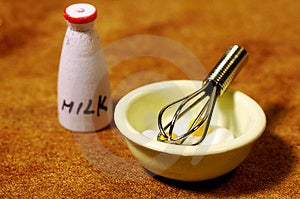 Breakfast: The most important meal of the day! If you are like me, it is also one of the most hectic. Everyone gets up at a different time, so I often end up making breakfast three times. I feel like a short order cook, answering the call of:
I want mine scrambled!
Only egg whites!
Poached!
Cheese Please!
Hold the Cheese!
Any other kid in school would be so happy to have a mom who gets up to make breakfast. But my kids just can't wait until cereal day! Once, sometimes twice a week I allow that treat, but for the most part, I want the kids off to school with a wholesome breakfast to fuel their day. And not the fruit loops kind of "part of a complete breakfast."
Here is one of our favorites:
First for the Crepes.
1/2 cup milk (I used goat milk and it turned out great!)
1/2 cup water
2 eggs
1 cup whole wheat flour
1 tsp sweetener of choice
1 pinch salt
2 T melted butter
Whip all the ingredients together to make a thin batter.
(Tip: to use these crepes in place of tortillas for a more savory dish, substitute broth for water and omit sugar.)
Next, pour about 1/4 cup batter on a buttered crepe pan or frying pan. Tilt the pan to evenly coat it.
Now, just to keep it real here, this is after many practice runs. The first few always tend to turn out more like this:
I find that if they resemble fleas, then there is not enough batter. Don't be shy with it, too much won't hurt. But the flea ones taste just as good.
Next for the middle:
Bananas
Peanut butter- all natural or make your own.
Whipped cream-dairy full!
Chocolate chips
(optional, but highly recommended)
Put a stripe of peanut butter right down the center of the crepe. Cut the bananas lengthwise and place on the PB. Next, slather with whipped cream and sprinkle a few chocolate chips on top. Roll it up and stuff your happy face.
There are no cries for cereal on banana dog day. The only thing I hear is:
Thanks mom!
You're the best!
You excel at everything!
And you are pretty too!